Trump in Europe: 'The shove heard round the world'
Viral 'shove' was not at photo op but during tour
Media Critique
By TATIANA PROPHET
Social media's biggest takeaway from the European leg of President Donald Trump's first foreign trip was that he shoved the prime minister of Montenegro to get to the front of the group photo.

Except the only thing is, it wasn't anywhere near a photo op that he shoved, or pushed aside, the prime minister of Montenegro. A review of the raw video reveals that the "shove" took place during an informal tour of the building, well after the group photo. The fact that they are standing next to a background of distinctive steel beams and windows backs this up. At this point, Trump pushed past Dusko Markovic to get closer to Jens Stoltenberg, general secretary of NATO, who was speaking and pointing at something.
It's fairly safe to say from the joint press conference at the White House with the NATO head, and the rapport between them at Thursday's event, that the two men (Stoltenberg and Trump) like each other. It's also clear that the entire group had been getting to know one another during the event, and while the Washington Post stated that Trump did not look at or acknowledge Markovic (the man he "shoved'), it's important to note that all of these people had been interacting in a group setting for hours. It's a bit like a trade show, except the trade is world leadership.

Frank Bruni, the longtime New York Times columnist, called it "the shove heard round the world." He then summed up what most news outlets had stated: that Trump was trying to get in front because he wanted to be prominent in pictures.

"Markovic, Trump and other heads of state were arranging themselves for a photograph," Bruni wrote. "And Markovic had the misfortune to be standing between Trump and the front of the pack, a lesser beauty in the bossy prom queen's path."

Other U.S. and British media followed suit. Mother Jones published a headline asserting their interpretation of the video: "Trump Appears to Shove NATO Leader Aside for Better Position in Photos: Taking America First Literally."
Even The Washington Times, always to be counted on for a conservative viewpoint, while analyzing the media's pettiness in Trump's trip coverage, repeated the error about the "shove" being at a photo op.

It's understandable that many would assume from the short video clip that went viral that Trump was trying to get in front for a photo -- what with major media budget cuts and all. But when viewing and taking in context the entire three and a half hours of video footage, a different picture emerges – one largely missed by the major media outlets.

The picture is one of cordiality among members of an alliance. At one point, after Trump's speech in which it was widely reported that several heads of state were seen whispering and even scowling at each other while Trump "castigated" them for not paying their fair share, President Emmanuel Macron of France is seen briefly clapping Trump on the back.

About that "fair share," it was probably 15 years ago that it used to be a pet issue of Americans on the right and the left that the United States was always paying for disasters, famines and crises around the world. That appears to be a concern no longer, eclipsed by the idea that this oaf of a man, the beast that many can only refer to as "45," is embarrassing himself and his unfortunate countrymen with shoves and scoldings.
If you watch the speech, there is nothing scolding about it. Trump is simply stating calmly that it's unfair to U.S. taxpayers that 23 out of the 28 countries pay less than 2 percent of Gross Domestic Product on NATO defense.

Read the transcript of Trump's speech to NATO here.

The New York Times correctly fact-checked Trump in pointing out that none of the member nations owe any money not paid in previous years. In fact, the 2 percent figure is a guideline that members in 2014 agreed to be met by 2024.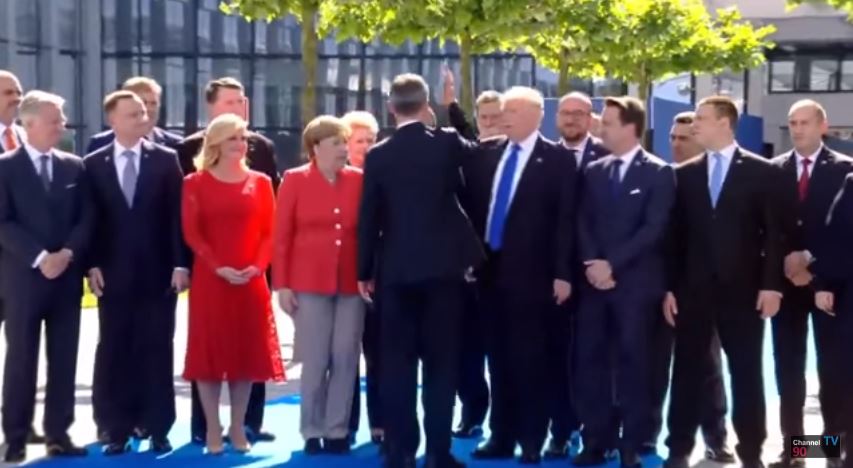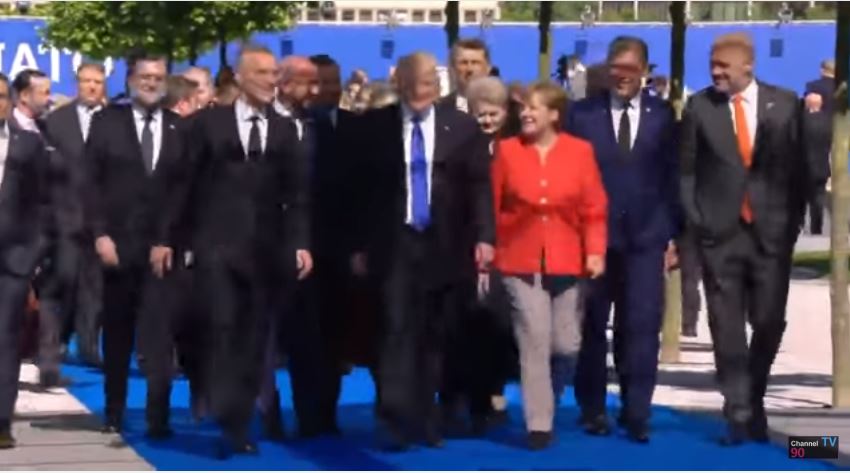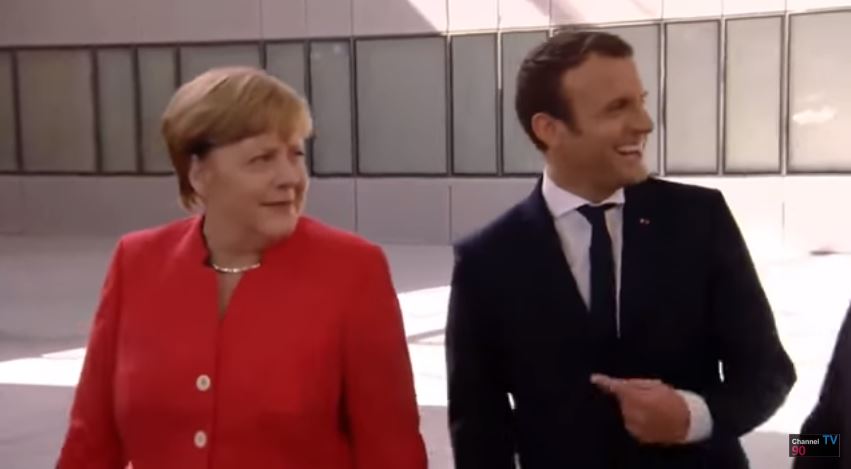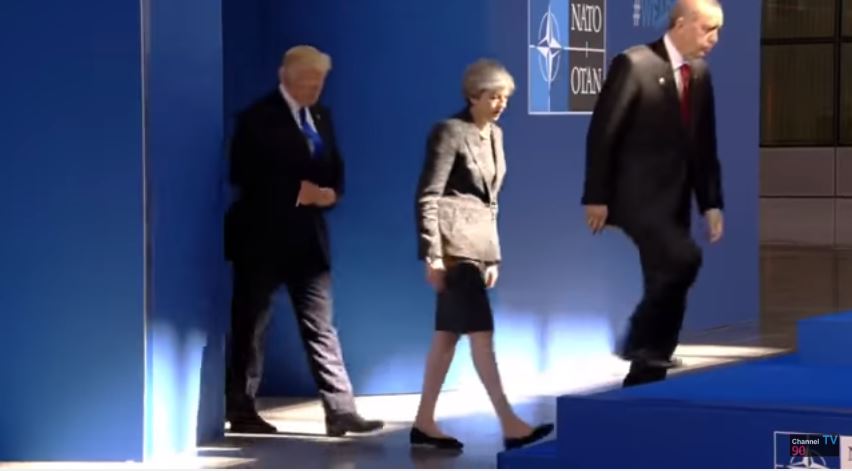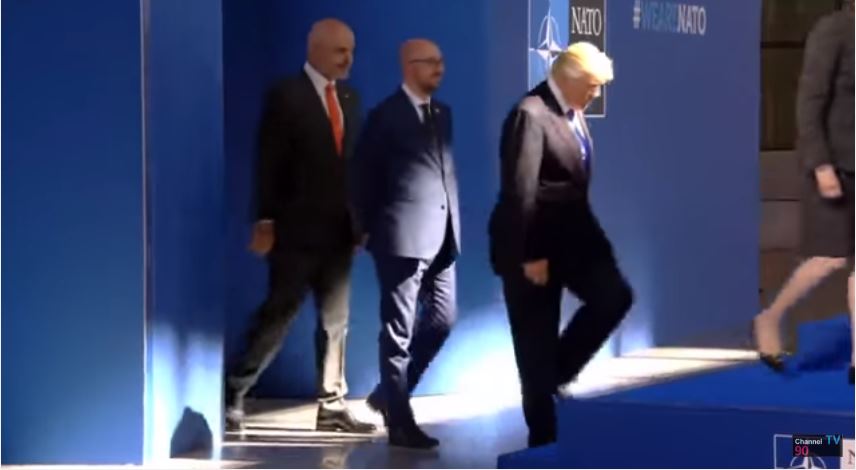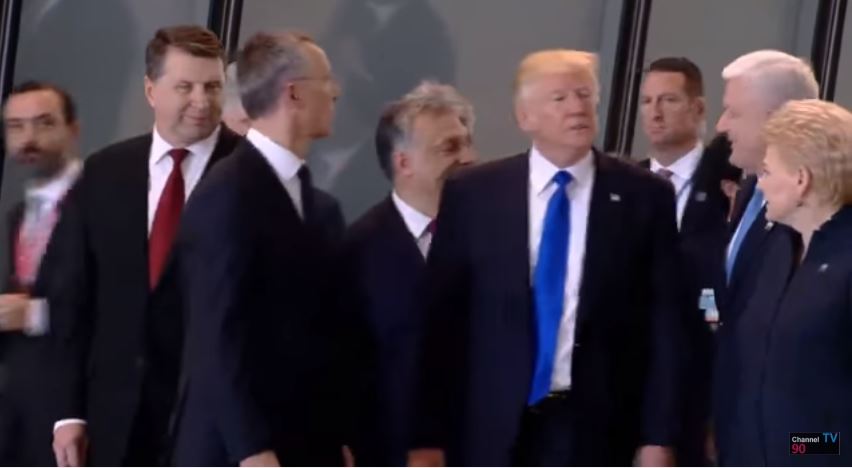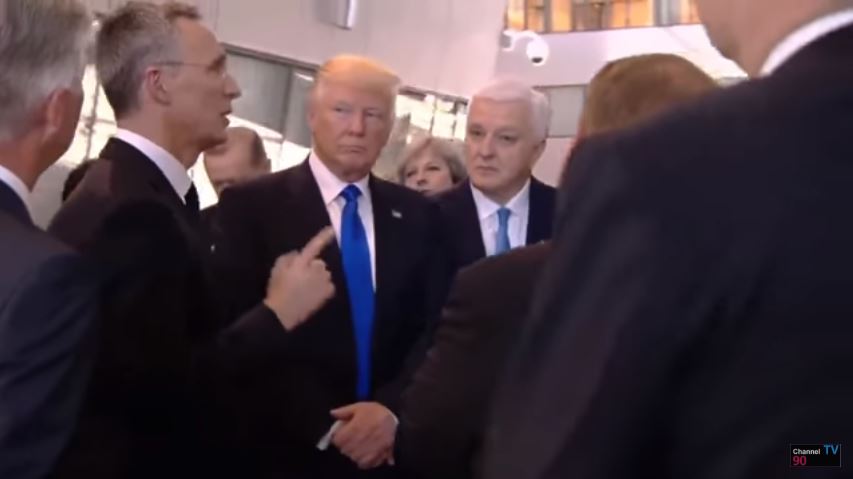 Another element missed by major media, probably because they did not have time to review the entire video and instead relied on second-hand reports, is that President Trump made a joke during his speech, a joke that most of the NATO members laughed at, including General Secretary Stoltenberg.

After commemorating the 9/11 and Berlin Wall memorials, Trump said:

"It is truly fitting that these two artifacts now reside here so close together at the new NATO Headquarters."

Then he paused, and said in what appeared to be an impromptu remark: "And I never asked once what the new NATO Headquarters cost. I refuse to do that. But it is beautiful."
Stoltenberg smiled broadly, while other heads of state smiled and laughed.

If it was covered at all, the remark was taken seriously, as a jab at the organization for building such a nice headquarters.

"Trump even suggested at the dedication of the new NATO headquarters that it cost too much," wrote Sophia Tesfaye in Salon, after quoting The New York Times in the Salon headline as saying Trump had received a "chilly reception" in Europe.

The video suggests otherwise. View it here.

Another "fact" most major media chose to focus on was the idea that Trump did not explicitly pledge to follow "Article 5" of the NATO charter, which calls for all members to join in defending their allies militarily.

Because Trump did not reaffirm his commitment to implement Article 5, the headlines presented this perceived omission as a problem.

The Atlantic intoned: "President Trump did not explicitly endorse the mutual-aid clause of the North Atlantic Treaty at the NATO summit on Thursday, despite previous indications that he was planning to do so, keeping in place the cloud of ambiguity hanging over the relationship between the United States and the alliance."

The only time Article 5 has been successfully implemented was after 9/11, which Trump pointed out in his speech. He added: "We will never forget the lives that were lost. We will never forsake the friends who stood by our side. And we will never waver in our determination to defeat terrorism and to achieve lasting security, prosperity and peace."

But that was not good enough for most media, who appeared to be quoting each other as pointing readers to Trump's glaring omission as the main substantive takeaway from the NATO Summit (the shove being the much more interesting non-substantive takeaway). In fact, most of the commentary and editorials that came out of the NATO Summit was that Trump had somehow conducted himself disgracefully at the meeting and left NATO leaders feeling like they were not fully supported by the United States.

Way down at the end of the Atlantic article were assertions by Secretary General Stoltenberg that Trump obviously supports Article 5. One has to wonder who is writing these headlines, and whether they learned anything about context in their journalism classes, or about the "inverted pyramid."
The same Atlantic article quotes Stoltenberg as saying "We have had a clear message from the U.S. administration. ... It's not possible to be committed to NATO without being committed to Article 5."

If the head of NATO says Trump is committed to Article 5, then why is that the last sentence of the article? Why are major media outlets are relying on quoting each other for the driving takeaways of the day?

Salon quoted the Washington Post regarding Trump's speech to NATO: "Leaders who gathered from across the alliance gazed at Trump without expression and offered modest applause at the end."

Yet when one views the video, all of the speeches received modest applause -- most obviously Angela Merkel's.

This is not good for journalism and it's not good for our democracy. If journalists and media want to say they are under attack, then they need to make sure they're not getting sloppy. They need to do original reporting, and that includes watching an entire video of an event to make sure they are characterizing it in the proper context.